Generation 3 Silicone Pump and Bottle Pack
Please note: As our Gen. 3 range is being updated, all Gen. 3 bottles will now have a pale yellow rim instead of the dark blue one depicted. 
If you're a breastfeeding mama, start your journey off right with the Haakaa Gen. 3 Pump and Bottle Pack! Express, feed and store milk easily and effectively with Haakaa's world-first 5-in-1 feeding system. With a quick twist of the top, you can swap out your bottle attachment for any of our range of optional interchangeable attachments (each sold separately). We have our famous breast pump flange that lets you express directly into the bottle, a feeding spoon dispenser for when your baby moves on to solids, a sippy bottle top to help your independent toddler transition from a bottle to a cup and a sealing disk to preserve any leftover food or milk after feeding. This pack contains:
2 x 160ml Silicone Baby Bottles
The Haakaa Silicone Baby Bottle is made from food grade silicone, which makes it uniquely soft and safe for your baby. It is easy for little hands to hold, and because the silicone is impact-resistant, you can teach independence without worrying about breakages. The 160ml bottles included in this pack come with a slow flow teat.
1 x Silicone Breast Pump Flange
The Haakaa Silicone Breast Pump Flange attachment is fully compatible with all Gen. 3 Silicone Bottles, transforming them into our famous Silicone Breast Pump! We have kept the same simple and effective design that you know and love, except now you can express directly into a detachable silicone bottle for easy feeding or storage! Made from 100% food grade silicone, this compact pump flange is perfect for long-distance plane or car rides, or simply anywhere you would like to express quickly and discreetly.
2 x Silicone Bottle Sealing Disks
Our Silicone Bottle Sealing Disk transforms your Gen. 3 Silicone Bottles into the perfect container for storing breast milk, liquids and snacks, or for taking food on the go! They're completely airtight, keeping food fresh and preserving the beneficial properties of breast milk that are so important for our growing little ones.
Customer Reviews
Write a Review
Ask a Question
18/08/2020
Hayley T.
Australia
FTM keen to try!
I haven't used the item yet, FTM and purchased prior to due date but the item itself was received very quickly! Almost record time, which was fantastic! The product quality feels amazing and I can't wait to start using it!
18/08/2020
madeline m.
Australia
Gen 3 pack
The breast pump in the pack is awesome and the bottles are great and convenient for as breast pump accessories and storage for ebm. Unfortunately my baby never took to the teet on the bottle and had alot of wind pain with this bottle.
Hi Lovely Oh no we are so sad to hear baby never took to the teat, we hope you found one for baby that did work. Great news that you love the pump!
07/08/2020
Tara K.
New Zealand
Gen3 pump and bottles
Haven't used gen3 pump and bottles yet as baby hasn't arrived, but a fast send rate with awesome communication with tracking, arrived super fast. Tidy packing, only thing constructive i could say was i wish the silicone pump bit connection had its own band to screw onto base instead of having to use a teats band, ive not had to use it so might feel differently once i am, but for practically, i like things to each have their own connections, even tried to find 'a parts' section to purchase such a piece, overall im impressed and look forward to using this product
06/08/2020
Maddi B.
Australia
Bad experience
2 x bottle teats and 1 x flange have turned a white cloudy colour after just putting in boiling water for 3 minutes. The other flange and parts were fine. I've sent 3 messages now and haven't received a response. Would never purchase again.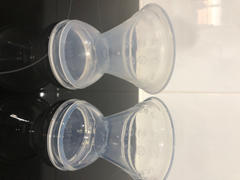 Hi Maddi Thank you for your feedback, I see my team have resolved this for you. If you have any further questions please don't hesitate to email us on customerservice@haakaa.co.nz
25/06/2020
Anonymous
New Zealand
Great pack!
Really handy pack. Good and easy use of all items. Definitely a good starter pack for mums to then build on more items later on.
You Might Also Like