Stainless Steel Lunchbox with snack containers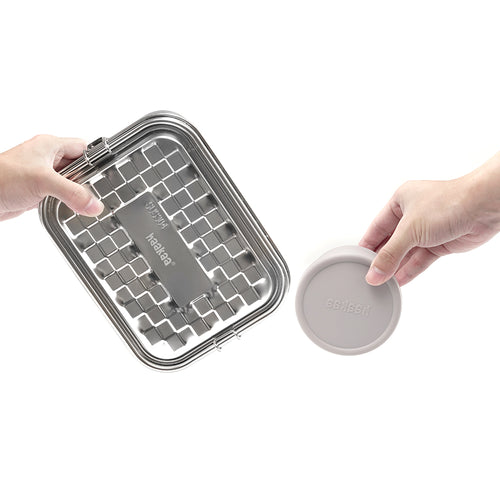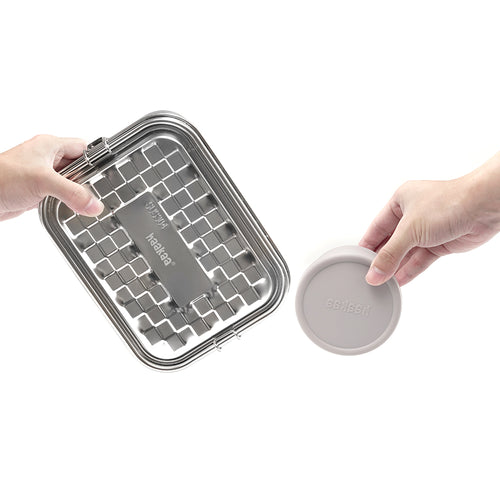 Contents: 1 x Stainless Steel Lunchbox  (Size S - 192*148*78mm, Size L - 220*165*82mm)
                 2 x Stainless Steel Sauce Containers (40ml)
                 1 x Round Silicone Food Container (150ml)
Enjoy making homemade lunches but want a more eco-friendly alternative to plastic lunch boxes? We've got you sorted! Made of high-quality stainless steel, this durable lunchbox won't rust or leach nasty chemicals into your food, keeping it fresh and safe. It fastens securely for minimal leakage, with two locks on either side and a silicone seal around the lid, plus it keeps your food conveniently separated in one of the three compartments.
This handy set also comes with three smaller containers, all of which fit inside the lunchbox and have lids that seal securely, so you can pack extra snacks, dipping sauces, purées and more!
Please note: Avoid tipping the lunchbox or containers upside down. While the containers are leakproof, the internal divisions are not totally leakproof. Handle with care. Avoid leaving in direct sunlight as stainless steel can become hot.
INNOVATIVE
You Might Also Like