Silicone Ice Pop Mould Set (3 pcs)
Cool your little ones off this summer with our bright and colourful Silicone Ice Pop Moulds! They are the perfect way to create homemade, healthy and waste-free treats without the contamination that comes with conventional plastic ice moulds.
Made from 100% food grade silicone, our handy little moulds are dishwasher safe and resistant to both hot and cold temperatures. Get inventive and fill them with whatever tasty combination you can dream up. Blend fruit with Greek yoghurt, juice with chopped fruit, peanut butter with almond milk, coconut water with blueberries - the possibilities are endless! You can even smuggle some vegetables in there for the fussy little eaters in your house. 
Our Silicone Ice Pop Moulds are also super handy for homemade baby food and breast milk! Fill each mould with enough food for a meal and freeze flat. Grab a tube on your way out the door and submerge in boiling water to defrost for an easy, ready-to-eat meal. 
All moulds come with their own tight-fitting lid which make them the perfect little container for snacks and nuts on the go. 
This set includes 3 x Silicone Ice Pop Moulds.
Please note: Solid food is recommended for babies aged 4-6 months and older. Please consult your midwife or medical professional if introducing solids earlier. Due to the natural properties of silicone, this product may discolour over time if exposed to strong colours.
Customer Reviews
Write a Review
Ask a Question
25/03/2021
EMMA W.

New Zealand
A great healthy treat
My son loves his ice blocks, a great way to have a healthy cool treat during summer. Super easy to use and the lid is a great addition so can easily be put back into freezer.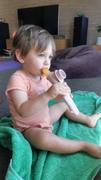 31/01/2021
Danielle M.

Australia
Coolest
Great for kids of all ages, ability to create healthy ice blocks for hot summers days
07/01/2021
Drew S.

New Zealand
So Fun and Easy!
I love using these for my son! They are easy to hold and your hands dont get cold!
You Might Also Like