Oatmeal Baby Bath Milk (250g)
NOTE: Our Bath Milk packaging has changed and will now come in the bottles depicted in the product photos. It will not come in the bottles depicted in the product video.
If your baby suffers from dry or itchy skin, we have the perfect bathtime remedy to soothe their skin!
Haakaa Oatmeal Baby Bath Milk is specially formulated with all-natural ingredients to help alleviate dry, itchy skin, while forming a protective barrier and locking in moisture. Our Bath Milk is accentuated with lavender essential oil, which releases a heavenly scent that calms and encourages sleep.
Each bottle contains approximately 250g of Oatmeal Baby Bath Milk, and comes with a wooden spoon and muslin bag.
Customer Reviews
Write a Review
Ask a Question
10/11/2020
Kylie G.
New Zealand
Love this sleepy dream time bath mix!
I wish this came in bigger jars !!! We don't use this at EVERY bath time but perhaps once a week or on nights that bubs may need that extra little bit of TLC her way before bed. We found this helps sooth her skin if she's had an eczema flare up , Irritated skin on a hot sticky summers day or just a bit of extra relaxation a really cold night. The mixture of oats helps relieve her skin and the lavender oil helps sooth and relax her right before bed time and helps her to fall asleep faster and stay sleep longer. This is our all time favourite bath time product and couldn't recommend it more !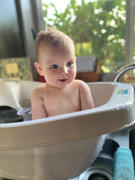 25/10/2020
Anonymous
New Zealand
14/10/2020
Anonymous
Australia
baby bath milk
lovely smooth on baby skin afterwards, would recommend
07/10/2020
Cleo R.
New Zealand
Love this
Smells Devine and is very soothing for my baby boy :)
14/09/2020
Anonymous
Australia
baby bath milk
protects baby's skin, great product. I will purchase it again
You Might Also Like