Generation 3 Silicone Bottle Anti-Colic Nipple (S/M/L) - 2pcs
The Silicone Bottle Anti-Colic Nipple attachment is fully compatible with all Gen. 3 Silicone Bottles, transforming them into a handy baby bottle!
Haakaa's Gen. 3 Silicone Baby Bottle is the perfect choice for teaching your little one independence! It's made of 100% food grade silicone, making it uniquely soft and safe for your baby. It is easy for little hands to hold, and because the silicone is impact-resistant, there's no need to worry about breakages.
With a quick twist of the top, you can swap out your baby bottle nipple for any of our range of optional interchangeable attachments (each sold separately). We have our famous breast pump flange that lets you express directly into the bottle, a feeding spoon dispenser for when your baby moves on to solids, a sippy bottle top to help your independent toddler transition from a bottle to a cup and a sealing disk to preserve any leftover food or milk after feeding.
Customer Reviews
Write a Review
Ask a Question
19/11/2020
Megan S.
New Zealand
Baby loves
Great soft nipple like product
04/11/2020
Anna S.
New Zealand
Bottle nipples
I have been meaning to email every time my boy sucks out of them it sinks into the teat and then he stops drinking wondering if there is something wrong with the airflow in these teats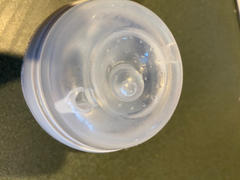 Hi Anna Thank you so much for your review and feedback. Can you please contact us at customerservice@haakaa.co.nz as we would love to give you some tips and tricks on how you can resolve this.
24/10/2020
Jade S.
Australia
Happy with the product
How I like a useful product!! It just makes my life so much easier. On one note though, I would like Haakkaa to have some well-designed bottle cleaning tools, especially for cleaning the air holes of the nipple.
11/09/2020
Simarpreet K.
New Zealand
Wrong size
i have ordered size L but the teat is really small hole i dont feel like its larger size i think they send me wrong size because i have already used it before it was a good big whole in size L but this time its a tiny hole
Hi Lovely We are so sorry about this. Can you please email us on customerservice@haakaa.co.nz so we can investigate further.
20/08/2020
Viola W.
New Zealand
Well made and soft
Bought these for my 5 months old, who has been EBF to try. Bun took a while to adapt to bottles and now she has transferred to using the large teat that comes with the gen3 silicone bottle.
You Might Also Like