Generation 1 100ml Silicone Breast Pump, Flower Stopper & Cap Combo
Our famous 100% silicone Gen. 1 Haakaa Breast Pump, Flower Stopper and Silicone Cap are now available as a combo! If you're a breastfeeding mama, the Haakaa Silicone Breast Pump is the perfect little essential to incorporate into your nursing journey.
The Haakaa Silicone Breast Pump is made of a single piece of 100% silicone and provides an easy, eco-friendly and effective pumping experience! Forget large, loud and complicated automatic pumps that cost hundreds and need to be pulled to pieces and cleaned thoroughly every time you use them - the Haakaa Silicone Breast Pump will change your life! Its compact size fits perfectly into any handbag or baby bag and requires no hard work to use.
The Haakaa Breast Pump is perfect for long-distance trips, planes, car rides, family BBQs or anywhere you would like to express discreetly, silently and quickly. Just place over your breast and let the pump do the work for you as it draws your milk using suction. It's 100% eco-friendly and is safe for mum, baby and our environment.
This combo pack includes 1 x 100ml Silicone Breast Pump, 1 x Breast Pump Flower Stopper (White) and 1 x Silicone Breast Pump Cap.
Customer Reviews
Write a Review
Ask a Question
24/10/2020
Anonymous
New Zealand
Great pump
I highly recommend it. It catches your let-down from the other breast while you are breatsfeeding.
07/10/2020
Penny F.
Australia
Great product
Wonderful and easy product
13/08/2020
Anonymous
Philippines
Amazing!
First and foremost, id like to emphasize how impressed i am with the delivery. It was so fast! From NZ to PH in less than 2weeks! This set is so great coz you get two covers and save a couple of bucks for it. Haven't tried it yet, but the material used feels so high quality and is definitely durable.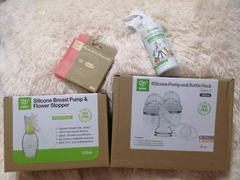 23/07/2020
Lagi U.
New Zealand
Love my Haakaa
I love how the haakaa is a portable alternative to my electronic pump. I can express while moving around the house or while feeding baby on the other side. This product is awesome!!
07/07/2020
Anonymous
New Zealand
Great product
Love it. I have a large milk supply and was nervous about pumping regularly with a conventional pump in case it stimulated me into making even more milk. The Haakaa collects only the milk being leaked while nursing on the other side (if it is put on without too much suction). This solves the issue of milk dribbling everywhere and allows me to collect on store 30ml or so that would have been wasted. Really easy to use and clean too. Highly recommended !
You Might Also Like